Dogear Peelback
Problem: The TechWeb Network needed to create new revenue without cannibalizing existing sponsorship opportunities.

Solution: I conceived, spec'd out, and supervised the development of an award-winning ad unit which peeled the page back to reveal a sponsors messaging. Supported text, image, and video. Launched across 20+ sites, generating over $1MM incremental revenue in its first year.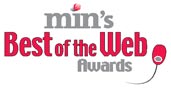 "...a clever evolution from bombastic page interruptions..."